Make sure that your first dance together will be a beautiful memory that you will cherish forever! The first wedding dance is one of the most memorable and romantic moments of your wedding. Our instructors will create a custom choreographed routine, incorporating your special song. Whether it is your First Dance, Father-Daughter Dance, or Mother-Son Dance, we can help you make it an unforgettable experience that you and all your guests will remember and will look great on your wedding video!
We offer several wedding dance packages or you have the option of creating your own Leesburg dance program. We will take into account your experience and the complexity of the type of dance you want to perform to make that first dance a memorable one. Try Anastassia Ballroom and Dance, the Best Ballroom Leesburg, Florida and where your first dance lesson is always free.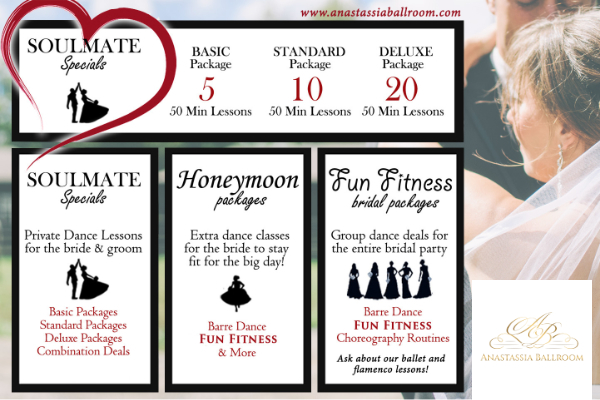 All Soulmate Special Wedding Dance packages include:
• Dance selection
• Choreography
• Music selection
• Practice space at the studio during business hours
Our Wedding Packages Are Valued Highly by Customers:
Get in shape for your wedding with our Ballroom Fitness Fun Combination Program of Barre & Latin Fusion Flamenco dancing classes. These dance lessons offer amazing techniques to shape up your entire bridal party! Register as a group today and tone up for the big day!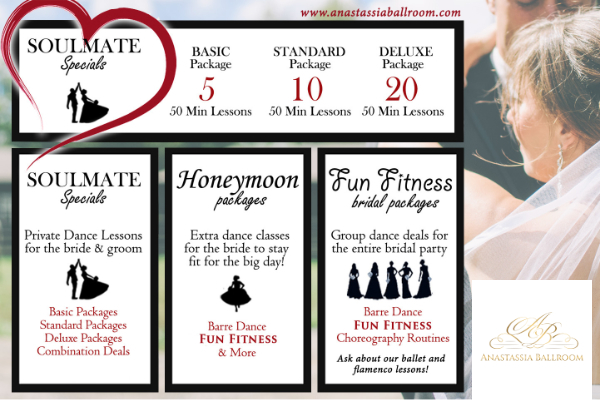 5 out of 5 stars based on 10 user ratings