Dance with Anastassia Abramenko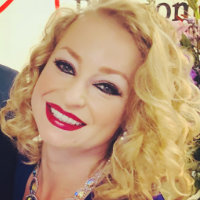 Anastassia Abramenko is the owner of Anastassia Ballroom & Dance and lead online ballroom dance instructor. She has a longstanding ballroom dance career as a professional dance instructor and choreographer with over 15 years experience. As a teacher, she embraces the mental, physical, and spiritual qualities of ballroom dancing. It's a source of inspiration for her and influences her daily life. This mentality ultimately led her to establish her own Central Florida ballroom dance studio - Anastassia Ballroom & Dance - in 2014.
Dance History
Anastassia started her dance training at a ballroom dance academy in Kaliningrad, Russia. Her passion and love for dancing grew from the early age of 6. Between 1992 through 1999, she competed successfully and won many prizes during international ballroom dancesport championships in the following countries: Russia, Denmark, Germany, Poland, France, Czech Republic, and Italy. In 1999, she moved to the United States and began her teaching and instructing career. From 1999-2010, Anastassia won several competitions in Florida as a dancesport professional and PRO-AM dance instructor.
Ballroom Dance Teaching Style
Throughout her journey, students have been drawn to Anastassia's passion for dancing, her detailed instructional techniques and her quality of dancing. Anastassia teaches students of all ages and abilities personalized dance instruction in a warm, caring family atmosphere. When you join Anastassia Ballroom, you don't just learn to dance, you become part of our dance family.
Dance Competition Rankings
Currently Anastassia teaches and competes in International Latin and Ballroom styles, along with American Rhythm and Smooth styles in the Professional-Amateur (PRO-AM) division, a division in which she has earned numerous awards and titles. In the past 18 years a number of her students took home the 'Top Student' title in the Open and Closed Newcomer, Bronze, Silver and Gold Pro/Am, Rhythm, Smooth, Latin and Ballroom divisions at dancesport competitions worldwide. In 2013 Anastassia received a 5th place Top Teacher award, and 4th place overall at the PRO-AM dancesport championships. That year, Anastassia was ranked 7th place in the Top Female Teacher category in the nation. In early 2014 she was rated 33rd in the Top Female Ballroom Dance Teacher category. In February 2017, she earned top 29 per the World Pro Am Dancesport Series rankings.

In addition to ballroom dancing, Anastassia has performed in The Community Nutcracker Ballet at the Jacksonville Florida Theatre. She has also performed in Cirque De La Symphonie with the Atlanta Symphony Orchestra.

"My dream now is to have one of the most fun and exciting dance studios!"
Teaches children, teens and adults
Wheelchair dancing + students with special needs
Special Awards
Dance Pro Winner at the New Beginnings of Central Florida, Dance Under the Stars Gala 2017 (Clermont, FL).
Pro dance partner at Stepping Out for Education - Leesburg's Dancing with the Stars-like competition (2016-current)
Anastassia and her partner Frankie won the Arthur Murray dancesport championship Fun-O-Rama in Orlando, FL both in Rising Star and Open Professional divisions. 2015 Fun-O-Rama Rhythm Dancesport Champion (Spring 2015)
Winner, River City Mini Match
Anastasiya Abramenko, 2nd Place - Professional Open Theatre Arts & Showdance, 2010 Southeastern States Championships
Contact:
Anastassia Dancing through the Years

Get to know more about our owner Anastassia Abramenko by viewing some of her favorite ballroom dance memories. Beginning as a ballroom dance youth competitor to her junior dancesport championships, ballroom dance instructing, dance show performances and Pro-Am competitions.

We hope her journey will excite and inspire you to start your dance journey with us! #dancegoals