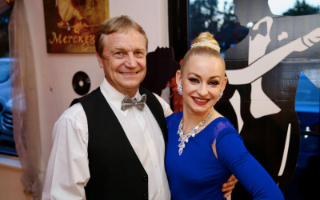 Bogdan Chizhan is a professional dancer, choreographer, and dance coach. He is an avid fitness buff and trains daily for 4-5 hours per day.

Originally from Russia, Bogdan started dancing at the age of 5. He has earned excellent results in numerous ballroom dance tournaments throughout Russia and Europe. He and his partner were multiple regional champions in the Juvenile 1 & 2, Junior 1 & 2 and later in the Youth categories in International Standard & Latin styles. They were also multiple winners of the open championships in Poland, Lithuania, Latvia, Germany, Italy, Belarus and Ukraine.

At the age of 18 Bogdan retired from competitive dancing and focused on Pro/Am instructing. He has been teaching students of all ages for almost a decade. He has worked in dancesport studios and professional dance clubs in Lithuania, Poland, Greece, Germany and New Zealand. Bogdan is also a professional judge and president of the dance sport club in Russia. His students won the world championships in Italy in the Junior 2 Latin category.

Bogdan joined our dance family in early 2019. We are very proud of Bogdan's accomplishments and his ballroom dance culture!

Dance Facts:
Who is he? Pro Ballroom Dancer, Sports Enthusiast, & Dance Performer
His dance career highlights include: : European Dance Competitor & Champion, Juvenile, Junior and Youth. Dance TV presentations in Kaliningrad, Russia.
Dance Affiliations: Russian Federation of Dancesport and Acrobatic Rock'n'Roll

Follow Bogdan on Social Media:
Call to Schedule Your Dance Lesson with Bogdan!