Vladimir Abramenko, the Barre Master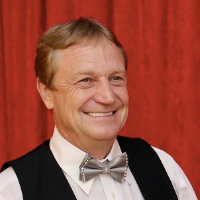 Vladimir Abramenko is a professional dance choreographer with over 40 years of experience of art service in ballet. Vladimir has major special ties in ballet, classical ballet, character dancing, ballroom dancing, dance training, stage managing and production. He has extensive knowledge from stage to production and lead a variety of concerts and group performances in Russia, Ukraine, France, Canada, Holland, Swiss, Switzerland, Germany, Belgium and USA. Vladimir has achieved government awards and diplomas for production, including best performances. He is a registered member of the North-West branch or Russian authors' society.

Vladimir is also an esteemed dance director and educator. He has starred in various stage productions worldwide. Professional dance groups of Russia, France, Italy, Greece, Canada and USA are some of his stage productions in repertory. He has directed and managed many concerts, including the celebrated special dedicated to the 300th anniversary of the Russian Navy in Moscow.
Dancer Facts
Also Known As: The Barre Master
Who is he? Pro Ballet, Barre and famous Ballroom Dance Choreographer & Performer
Dance Styles: He teaches Ballet, Barre and Ballroom dance styles
Languages: He's a Polyglot, He speaks four languages (English, Russian, Polish, Ukranian).
Teaching for: over 40+ years

Teaches children, teens and adults
Wheelchair dancing + students with special needs
Instructs Barre Fitness and Ballet Vaganova classes
Special Honors
Former choreographer-performer at the Theater School Dnipropetrovsk, Ukraine.
Former choreographer and artist at Saint Petersburg Humanitarian University.
Diploma equivalent to Master's Degree in Dance Choreography in the United States.
Contact:
Character Dance Production

Watch Vladimir's Russian character dance stage production rehearsal.